The Warbler's Club began in 1929 at Woodlawn High School in Birmingham, Alabama. Mr. John Light, a graduate of Northwestern University, began his career as the vocal teacher for boys that year. His stated vision was to establish a glee club for boys like the one in which he participated while at Northwestern. By the end of his first year the glee club was formed and the first members, with encouragement of Mr. Light, selected the name Warblers for the club. From the onset of the Warblers, young men had to audition by singing a solo and be voted into the club by the membership. This was incredibly stressful to youthful teenagers, but it set the stage for hard work, determination and pride of accomplishment. Thus, Mr. Light's vision would mold the character of hundreds of young men over a span of almost half a century. Young men from all backgrounds would forever be bound together by a common thread: the love of fun, good music and singing in four-part harmony.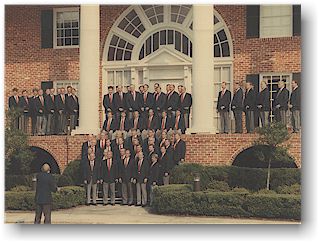 The first Warblers performances were more like a Vaudeville "variety show" with a mixture of music and comedy. Over time the performances evolved into a Minstrel Show, a format that involved the chorus positioned on the stage in a semi-circle, several comedians located on each side of the stage (called End-Men) and a Master of Ceremonies (called the Interlocutor). The chorus was dressed in brightly colored costumes, but the End-Men were dressed in character outfits, some sloppy, others ridiculous, but always humorous. The Interlocutor was dressed in Top Hat and Tails. The End-Men would perform short skits and tell jokes while the stage sets were being changed for various choral arrangements. The Interlocutor was often the "foil" for the End-Men's antics.
Mr. Joseph "Uncle Joe" Turner began his 27-year career as the boys vocal teacher in 1950.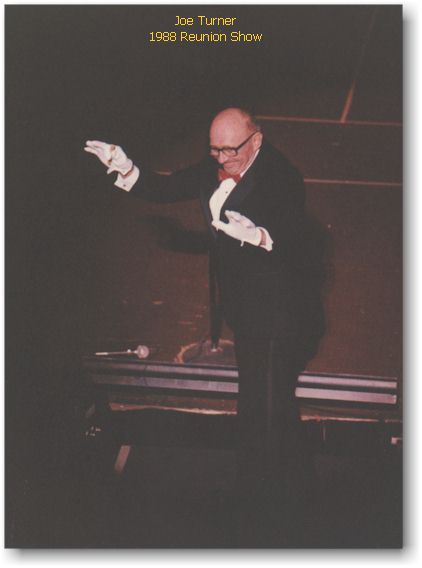 He himself had been a Warbler in high school and had graduated from the University of Alabama in music education. During his tenure as Director of the Warblers, the shows became more elaborate and even more popular. The shows were held in the late spring of each year after spring break. The Warblers used the Spring Break week as the only time they had full use of the auditorium for set preparation and practice. There were many great memories and true bonding of the club membership as friends forever. The classic Minstrel Show ended with the Farewell Minstrel in 1963 out of respect for evolving cultural norms. From then until the last show in 1972 the Warblers performed in what was called a Hobo Show. The show kept the same format as the former Minstrel shows, but standardized the costuming for the chorus, and expanded the roles for the End-Men to include characters from popular culture and "visitors" from around the world. From 1972 to 1977 the Warblers continued to perform in several competitions and public service events.